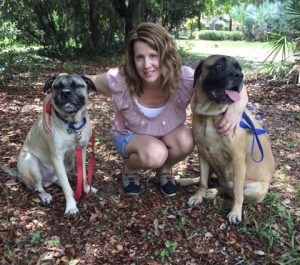 Having grown up in Connecticut, my family always had dogs, cats and horses. I spent most of my younger years working at stables and showing horses. Our pets were always a big part of our family. I have always loved animals. After growing tired of the Connecticut winters I decided it was time to move to Florida. That was 12 years ago and I never looked back. I became involved with rescue groups after I adopted Maisy 8 years ago from Bullmastiff Rescue. I later adopted Ludo, a Mastiff/Shepherd mix, also from rescue. Mini, my little dog, was listed on Craig's List with the caption "Need home today for runt or she goes to the pound"! She will turn 14 this year.
I am finally making my dream come true. I left a successful career after 32 years to start my own business, Walk This Way Pet Services llc in Sarasota Florida.
I have used a pet sitter for years and I know first hand what made me feel confident about leaving my "kids" in someone else's care. My knowledge and passion for animals will make you and your "kids" feel comfortable and safe too.
Daily dog walking
Daily and overnight pet sitting
Transport to vet or grooming appointments
Pick up food treats and litter, etc.
Licensed-Bonded-Insured-Background checked-CPR Certified