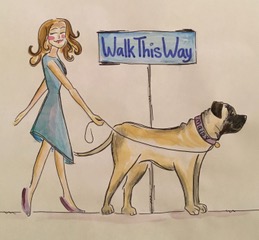 LOVE ANIMALS?
WALK THIS WAY PET SERVICES IS LOOKING FOR A PART TIME PET SITTER/DOG WALKER TO ADD TO OUR TEAM. ABLE TO WORK IN THE LAKEWOOD RANCH AREA, SARASOTA & MANATEE COUNTY
The perfect candidate should meet the following criteria
* Can commit to pet sitting for at least 8 months (this is not a seasonal position).
* MUST have availability to work weekends, nights, and holidays and spend OVERNIGHTS at Clients home.
* Comfortable taking care of dogs, cats, and other small animals
* Be in good physical condition.
* Have clean and respectable appearance and attitude
* Enjoy working outside in all types of weather including rain
* Have a reliable car, good driving record, and driver's license.
* Be comfortable walking dogs of all breeds, sizes, and personalities.
* Have a cell phone and is comfortable with email & text.
Position will not require work on a daily basis; however you must be FLEXIBLE! This is an "as needed" customer-driven business, we must meet the needs of our clients. This is a great way to earn supplemental income. If you truly love animals, are mature, extremely reliable, detailed oriented, self-motivated, pleasant to work with, committed to excellent customer service, and would like to become part of our family of pet sitters, this may be the perfect job for you.
***All applicants must have a clear criminal history and agree to a criminal background check. You will pay for your own check but will be reimbursed after 3 months of employment.