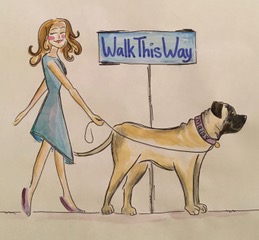 LOVE ANIMALS AND THE GREAT FLORIDA OUTDOORS? This is the PERFECT job for you!!
WALK THIS WAY PET SERVICES IS LOOKING FOR A PART TIME PET SITTER/DOG WALKER TO ADD TO OUR TEAM IN THE SARASOTA, BRADENTON AND LAKEWOOD RANCH AREA.
Walk This Way Pet Services is a local well established company. We offer steady work and personal support to ALL of our team members. Unlike some of the larger companies, Walk This Way Pet Services cares for all of our team members.
This is an Independent Contractor Position. You will receive a 1099 and be responsible for your taxes.
The perfect candidate should meet the following criteria
* Can commit to pet sitting for at least 8 months (this is not a seasonal position).
* Have availability to work some weekends, nights, and holidays.
* Comfortable taking care of dogs, cats, and other small animals
* Be in good physical condition.
* Have clean and respectable appearance and attitude.
* Enjoy working outside in all types of weather including rain.
* Have a reliable car, good driving record, and driver's license.
* Be comfortable walking dogs of all breeds, sizes, and personalities.
* Have a cell phone and is comfortable with email & text.
* Be willing to work weekends.
* Be able to stay at clients house overnights on occasions, this includes some Weekends.
Position will not require work on a daily basis; however you must be flexible. This is an "as needed" customer-driven business, we must meet the needs of our clients. This is a great way to earn supplemental income. If you truly love animals, are mature, extremely reliable, detailed oriented, self-motivated, pleasant to work with, committed to excellent customer service, and would like to become part of our family of pet sitters, this may be the perfect job for you.
*All applicants must have a clear criminal history and agree to a criminal background check. You will pay for your own check but will be reimbursed after 3 months of employment.*